Boost your local search presence
In this guide I will show you how to:
Setup & Optimise your Google My Business (GMB) Listing
Improve on-page SEO for local businesses
Build local citations
Get your business ranking in the local map pack
Plus lots more.
So, let's jump right in!
1. An Introduction to Local SEO
Anybody who owns a business focused on local clientele is sure to come across this term at some point in their company's lifetime.
Put simply, local SEO is the process of optimising a website so that it is more discoverable in local searches.
This can be done via a range of methods, including:
Google My Business (GMB) optimisation
Keyword research
On-page optimisations on your website
Citation building & link building
Essentially you are optimising for keywords that trigger local results in the SERPs.
*Important* These searches take place on more that just Google. People also search for local queries on:
Why is local SEO important?
It's important to understand that local SEO makes up a sizeable portion of all organic results.
Local search results also differ from regular organic search results for multiple reasons, such as:
Different search intent
Different query types
Different result types
To demonstrate the power of local SEO and what the usage interaction metrics look like, here are a few really fascinating stats:
There's a lot to takeaway from this…
What is clear is that local search is on the rise, as is the usage of mobile search still (it has been for years). With so many people searching on the go for local queries, it's vital that your business can get in front of these people and be present to answer their intent.
This is especially important when you also consider that:
When a user searches for a local query or something "near me", 83% of those customers who visit shops in store have performed that local search within a week.
"Where to buy" + "near me" keyword searches have grown by 200% between 2018 & 2020.
48% of shoppers say they use Google to get helpful recommendations on where to buy.
Smart speaker usage is growing. I'm a massive fan of voice search for many reasons, but here's a key reason for local SEO: 58% of people have used voice search to find information about a local business.
I think it's safe to say that local search is a powerful platform for your business!
If you're at all familiar with SEO, you'll know that Google and other search engines use a set of ranking factors to sort through their index and serve the best & most relevant result to a search query.
Well local SEO works much the same way…
Just with a different set of ranking factors. Here's what those are:
Proximity – this is almost a given. The location someone is searching from will heavily influence the results they see.
NAP (name, address, phone number) consistency – it's one thing to have your business mentioned across the web, it's another to ensure all details are 100% correct!
Citations – These are essentially references of your business found online. Citations can come from places such as local business directories, social media platforms and mentions on other websites.
Completion & optimisation of your Google My Business listing – Your GMB listing is the bread and butter of local SEO. It's a must have.
Review count, rating & sentiment – A triple whammy. The more 5 star reviews you have with positive review content the better.
Keyword optimisation – On-page and within your business listings.
Links – Shock horror! Google likes to use links from relevant & reputable websites to improve the ranks of local businesses. 😮
2. Setup-and optimise your business for local search
Yes I did say Google My Business is your bread and butter of local SEO…
And that needs to be fully optimised, but there is far more at play when it comes to getting your business visible online.
In this chapter we will cover:
Creating & optimising your GMB listing
Creating & optimising your Bing Places listing
Setting up Google Search Console
I've seen many businesses that just don't have the basics setup at all.
This chapter will ensure everything you need is covered!
Creating and optimising your GMB listing
*Super important*
When you are creating your Google My Business listing and all other local listings, you need to keep all information 100% consistent.
As mentioned above, NAP (name, address, phone number) consistency is a core ranking factor in local search. Getting it wrong can impede how your business will perform.
All the information you enter into your GMB listing should also match your website, your Facebook page and all other citations you build online.
Before you create a new listing, be sure to check that it doesn't already exist.
Someone else may have already created a listing for your business, so start by searching for your business on Google Maps. If you find your business, select the 'Claim this business' option.
If nothing shows, create a new listing through your Google Account, and fill in the information requested.
Whichever way you get your listing, you will need to verify it by entering a code that Google will post by mail to your business address. So keep an eye out for this!
The more complete your profile, the more authority Google will give your business.
Follow the prompts GMB gives you.
Completing your profile enables higher placement in search results.
It also increases the amount of ways your customers can interact with your page, allowing you to get more information to them.
Here's a quick GMB checklist:
Go through and fill in all of the information under the "Info" tab. This includes your name, address, phone number, website, description and more.
Fill in all categories that describe your business. Google will make you select an overarching category that describes your business, such as "internet marketing service".
Add sub categories that supplement your top level category. Add these in as they directly impact what keywords your business will show for in local results!
Add your services and products. This allows you to add detailed descriptions and price points, plus it tells Google what your business is offering.
2. Get positive reviews and; respond to them!
Remember this point from Google's local ranking factors?
Review count, rating & sentiment – A triple whammy. The more 5 star reviews you have with positive review content the better.
Well you want as many as you can get (obviously) for ranking purposes. But reviews serve more than just being a proxy for better keyword ranks.
They also build trust. Trust that can be the make or break between converting a potential customer.
In fact, 88% of consumers trust online reviews as much as personal recommendations. A further 90% of consumers read online reviews before even visiting a business!
This makes it paramount to not only get reviews, but respond to them too. Showing customers you care can make a big difference.
Now, getting reviews is easier said than done. I get that.
However, here are 2 key things that make getting reviews easier:
1. Prompt happy customers early on.
Just finished a job and the client is happy? Ask kindly for a review and state how much you and your business would appreciate it.
2. Make it easy!
Thankfully, Google does all the work here. Within your GMB dashboard, there's a short link you can grab which will take customers directly to a review tab. Simple!
Now, getting reviews is easier said than done. I get that.
However, here are 2 key things that make getting reviews easier:
1. Prompt happy customers early on.
Just finished a job and the client is happy? Ask kindly for a review and state how much you and your business would appreciate it.
2. Make it easy!
Thankfully, Google does all the work here. Within your GMB dashboard, there's a short link you can grab which will take customers directly to a review tab. Simple!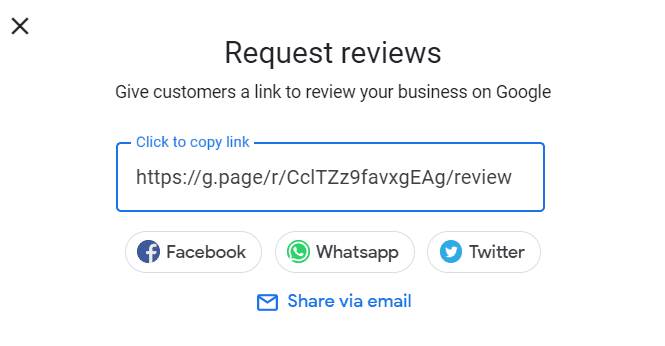 3. Leverage the Google post feature
The post feature within GMB allows you to add updates about your business that will then appear in search results directly under your listing.
This can be done to showcase:
Covid-19 updates
Offers
Business updates
Events
Products your selling
It's a feature well worth using as it's completely free and gives whatever update, product or service you're posting extra exposure!
Setup your Bing Places listing
While Google is the dominant search engine in the Western World, Bing still has a marketshare (one that is growing) that cannot be ignored.
For local SEO, you need to be where your customers are searching, and if that happens to be on Bing, then in steps Bing Places for Businesses.
Creating your business listing here is literally one of the easiest SEO setup bits of work you'll ever do. I'll still show you step by step though 🙂 . Here we go:
Head over to this link: https://www.bingplaces.com/ and click on "New user"
On the next screen, click "Import from Google My Business now"
And you are done. Easy!
Now you have a completed Bing Places listing. This listing will not only drive traffic and awareness of your business, but it also acts as a powerful NAP citation!
Setup Google Search Console
If you have not heard of Google Search Console, it is a free tool offered by Google that allows you to monitor your website's appearance in organic search results, plus troubleshoot any technical issues.
Even if you're not an SEO professional, here is why you should be using Google Search Console as a business owner:
Confirm that Google can actually crawl & index your website.
Monitor clicks and impressions for keywords people are actually using to discover & visit your website.
Receive alerts about issues with technical SEO, including indexation, spam, and usability.
All pretty essential things to know as a business owner!
And that is the beauty of Google Search Console. It's a powerful tool perfect for the specialist or for the generalist.
With the quick spiel done, here is how to setup and verify Google Search Console for your business:
Head over to Google Search Console here: https://search.google.com/search-console/about – You need to sign in with a Gmail account. Be sure to sign in using a business email, not your personal email.
Add your property. I suggest adding a domain property as it covers all website variants (http, https, non-www & www). This is handy for picking up any crawling or indexing anomalies.
Use the option "Verify domain ownership via DNS record"
I recommend opting for the DNS verification as it's a quick and easy way to verify all site versions. Ask your hosting provider for support in doing this if you get stuck.
Chapter 3. Keyword research for local SEO
On the hunt for local search intent
Keyword research for local SEO requires somewhat of a different approach.
If you have not yet already read my complete guide to keyword research, I highly recommend going through that resource as a supplement to this quick guide on local keyword research. The two together will ensure you learn all there is to know!
In this chapter we will cover:
Deconstructing your competitor ranks
Researching on local platforms
Using keyword generators
For local, at the end of the day, we are on the hunt for search terms with local intent, so we can optimise our website to answer that intent.
Deconstruct your competitors local ranks
This one requires a subscription to any popular SEO tool. I use SEMRush, so here's what this looks like in that tool:
Pick any business that serves a local area. We are looking for SAPs (service area pages).
This could be a plumbing business in your suburb, or it could be a global hotel chain.
For this example, let's go with the global hotel chain, Hilton: https://www.hilton.com/en/locations/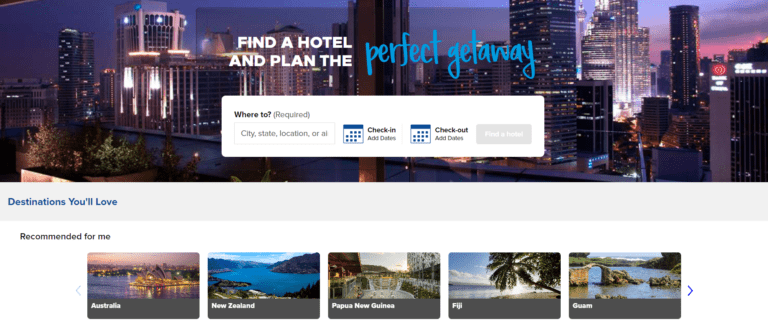 You'll notice plenty of pages like this during your research. Simple yet effective navigational hubs that list all areas of operations.
Find the relevant location landing page, I chose Australia (obviously): www.hilton.com/en/locations/australia/.
Now run the URL through the "Keyword Overview" tool in Semrush. There are a few different filters to use here:
Country filters – depending on the website you're looking at, different countries often have different keywords. Even if there is no volume in your home country, volume from another country is nothing you should pass up! (As long as it's relevant).
Desktop & Mobile results – Again, these will provide different keywords.
The date filter – Using this can be another sneaky way to dig up keywords you may have missed. If you notice a highpoint in the "Keyword Trends" graph, go to that date and compare search queries. There may be some keywords ranking back then that aren't anymore. This could be due to seasonality, events, or just a ranking loss.
Advanced filters – This filter is great for drilling down into specific query types. For local (especially the travel niche), filtering keywords that only include "near" or "in" is a great way to find obscure longtail terms you'd otherwise have no idea about.
Here are a few results I found from the top countries the Hilton Australia page is ranking for:
"hotels near Melbourne CBD" – USA
"is there a hilton hotel in Canberra" – USA
"hitlon honors phone number Australia" – USA
"where is the gold coast in Australia" – UK
"alice springs australia map" – UK
"hotel brands australia" – CA
Notably, this subfolder ranks for more keywords in the USA than it does in Australia. As such it would make sense to also optimise the landing page for queries coming from USA searchers, right?
What's clear is that international travellers are looking for different information than local travellers. So this must be considered when optimising a SAP page.
Australians are not searching for maps of areas, or where cities are located. These things may seem trivial to a local, but to an international, they are wanting answers to this information.
Same goes for international phone numbers. The demand is there from searches in the USA, UK & CA. So answer that intent by providing that information directly on the relevant landing page.
Research on local platforms
Platforms that host local businesses & freelancers/contractors are an absolute goldmine when it comes to digging up local keywords for SEO.
There are plenty of platforms you can use to discover local keywords. These will also be different based on where you live and what niche you're researching. Here are a few Australian examples:
Here are a couple of platforms where you can find niche specific content and keyword ideas:
Tripadvisor – Travel niche (duh) – Honestly this website is incredible for finding little nuggets of granular information. You have details on hotels, locations, tours etc, plus all the reviews and questions people ask!
Reddit – Anything niche – Reddit has threads on pretty much anything and everything. As such it may be a great platform for finding keywords and content ideas you may have otherwise missed.
Using a keyword generator is a super quick and easy way to get bulk lists of localised keywords.
For this, I like to use the Semrush "Keyword Magic" tool.
Here's how to best use this tool:
Enter a main, generic keyword for your niche
Apply an intent if you wish to narrow things down (commercial, navigational, transactional, informational)
Utilise the "include specific keywords" drop down. Add locations here. A tip for finding locations quickly is to pull a list from Wikipedia. Just search for a list of suburbs within a specific area.
Even without the filters you can discover a lot insight.
Down the left hand side Semrush gives you a list of keyword groups. Use this data to help you uncover more keywords.
In a search search for "electrician" you will find:
Emergency electrician
Industrial electrician
Residential electrician
Solar electrician
Strata election
Just to name a few…
These are all electrician categories that have decent search volume.
Append the list of suburbs you generated to this sub category keywords, and all of a sudden you can generate hundreds of localised keywords for very specific niche categories!
Chapter 4. Optimising your website for local SEO
Fine tune your site for local search
Aside from GMB & other local citations, having a properly optimised website is the main piece of the puzzle that will help you rank for local queries.
To get found online you need content. Same goes for local. Local content supports local rankings; makes sense.
In this chapter we will cover:
On page tips and landing page recommendations
How to utilise schema for local SEO
Linking for local SEO success
Citation building
Get the most out of your local SEO efforts by having a fully optimised website.
ON PAGE TIPS FOR LOCAL SEO​
I've found that the key to writing local content is to focus on these things:
1: Implicit local keyword intent
A bit of background on this one for local SEO:
Implicit = No specific component/brand/geo location specified. Example keyword: "air conditioning"
Explicit = Specific component/brand/geo location specified. Example keyword: "air conditioning installation sydney"
With implicit keywords, Google will automatically assign the explicit intent based on your proximity.
Searching for "air conditioning" while in Sydney will serve you different results than searching for "air conditioning" while in Brisbane.
Understanding the implicit keywords for your niche requires a bit of industry knowledge combined with local results filtering in a keyword research tool.
The best way to find implicit local keywords is to filter keywords with a "local pack" SERP result in any rank tracking tool.
Semrush has a great guide on how to build implicit and explicit keyword lists.
Lastly, the terms implicit and explicit are heavily involved in voice search. When it comes to voice, answers are either invoked one of two ways:
Implicit invocation: "Hey Google talk to Hilton Hotels"
Explicit invocation: "Show me hotels in Sydney"
With voice, you can basically think of implicit and explicit as brand and non-brand.
2. Semantically related keywords
What are semantically related keywords?
Basically they are just words or phrases that are similar in concept and add supplementary value to the topic you are talking about. An example would be:
"Football" is semantically related to "Liverpool" (best team in the world YNWA).
If "football", "football boots" and "football shirts" were my target keywords, mentioning "Liverpool" somewhere within my content would add semantic value.
So while different in meaning, the two words together make absolute sense.
For local search, using semantic terms is a great way to optimise your content and also beef it out.
When writing for local search, also think about including a reference to local points of interest or landmarks on location pages, e.g: "Our business is a 5 minute walk from Grand Central Station".
3. Supplementary topic coverage (local knowledge)
Helpful supplementary content is a ranking factor in Google search. This is because it provides added value to users and thus acts as an indicator of page quality.
For local, supplementary content may include local area knowledge.
Imagine you run a landscaping business in Australia. You have your small business website with a dozen or so pages, maybe a few blog posts.
You know the area you serve gets notoriously hot summers. As a result, the types of plants that thrive in your area may differ from those in other parts of the country. As would the maintenance plan.
Offering information on your website about these types of plants and how to care for a garden in a hot climate is an easy way to:
Create supplementary content that supports your service pages with topical knowledge and internal links.
Attract more users through organic search by ranking for longtail, niche keywords. Aside from more users, the added benefit is that ranking for longtail queries in a related topic will help improve how you rank for core topic terms.
I mean it makes sense that in order to rank #1 for "landscaping", you'll also need to be ranking for all the longer tail search terms around that.
This is how you improve your E-A-T, and how you can easily improve your local SEO ranks.
HOW TO USE SCHEMA FOR LOCAL SEO​
Schema markup is a snippet of code placed on your website to highlight important information such as where your business is located, a phone number, the time of an event, the price of a product or the review rating of a service, just to name a few.
There are 3 main types of schema that are all valid within Google:
For local SEO, there are a handful of important schema types we can leverage, each with its own benefit for local search and general SEO. Here's what those are:
1. Local Business schema markup
This schema type is a powerful addition for many reasons, with the main being that Google will display a prominent knowledge panel that showcases all the details about your business.
You can highlight:
Operating hours
Phone number
Reviews
Business address
Your website
A quick and easy way to enhance local search results for your business.
So much so that once your local knowledge panel has appeared, may find that it drives more clicks to your website than your normal organic result does!
2. Breadcrumb schema
Any website should be built with a logical information architecture where pages are grouped into a siloed hierarchy.
This is beneficial for several reasons. Those being:
Allows Google and other crawling bots to easily navigate your website structure in a logical manner
Better user experience
Opportunity add internal breadcrumb links
Opportunity to use breadcrumb schema to get folder paths appearing in SERPs
I've found that local businesses will typically have a website that goes 3, maybe 4 levels deep in the site hierarchy. Example:
https://www.mysite.com/services/electrical/commercial-electrician
What will happen with breadcrumb schema is that the /services/ and /electrical/ folder paths will be highlighted in search results.
A little quick win that displays to users off that bat that you offer more just commercial electrician services.
So now we know the benefits, here's a great website to generate your local business schema: https://technicalseo.com/tools/schema-markup-generator/
3. Sitelinks search box
Google gives website owners the ability to add a search box to their website result.
This means that when someone search for your brand, a search box will appear under your website and above your sitelinks, like such:
You can generate schema for a sitelinks search box here too: https://technicalseo.com/tools/schema-markup-generator/
LINKING FOR LOCAL SUCCESS​
Link building is a staple service in any SEO campaign.
In fact, all general link building methods apply to local SEO too.
However, local link building is a bit more nuanced. You have more niche options for building links and partnerships between local businesses.
Here are a handful of powerful local link building tactics:
1. Reciprocal links from established local business partners
As a business, you probably already have a range of relationships with other businesses within the local market. So as a first step, this makes finding local link targets easy. These links may come from:
Suppliers you work with
Other local businesses you partner with
You get the gist.
2. Local sponsorships
Links aside, sponsorships are a fantastic way to get your business some extra exposure.
The added SEO benefit here is obviously the chance of a nice local backlink.
If you are in the position to support with cash, then great, that is probably the easiest way in.
However, cash may not be an option, so why not offer your services?
The best sponsorship opportunities will come from:
Local sports clubs
Local charities
Local events
3. Create localised content as link bait
Localised content can be done in a few ways:
Review a local business in a similar niche – This can be a great way to build reciprocal value
Create a local resource page – Own a landscaping business? You could create a resource page on your site that provides information on how to get into landscaping, with links to educational sites, DIY guides and even product links.
Offer content to local publishers – News outlets are often starving for stories. This type of content could be year in review posts or local trends in your niche. Any of kind insider niche information can go a long way.
BUILDING LOCAL NAP CITATIONS​
What is a local citation?
Think of citations as references of your business online that include the NAP (name, address and phone number) of your business. A link to your companies website will often also be included.
It is the NAP factor that differentiates citations from backlinks.
This NAP factor is also what Google places a ranking emphasis on, as consistent mentions of your business details offer greater validation of your business, which in turn helps improve your authority.
Here's a scenario:
Two legitimate plumbing business are operating within a local area.
Both have decent websites and both have positive reviews.
Business A however has citations on Facebook, Yelp, Foursquare, Truelocal, Bing & Apple Maps (just to name a few)
Business B does not. So why does this matter?
Because the number, accuracy and quality of citations directly influences rankings. We know this for 2 reasons:
1. Google collects a vast amount of data from multiple sources about a business. If all this data (NAP) is consistent, it improves how much search engines cant trust your business.
2. Citations help users discover local businesses. Accurate NAP will ensure potential customers are directed to the right place. Inaccurate information however can lead to a lack of trust with users and a breakdown in interactions.
Auditing existing NAP citations
Now that we've established how important NAP consistency is, it is time to check yours!
The best way to do this is with the help of a few tools:
Using a service from these websites is 100% the best way to do it.
Loganix offers a $7 citation audit which will give you all the raw data. You will then just need to sift through that manually.
WhiteSpark offers a citation audit & cleanup service for a one time fee that will find, fix and enhance any listing of your business.
Building new citations
There are many websites, some I'm sure you've heard of, that any local business can be listed. Such include:
Google My Business
Facebook
Bing Places
Foursqaure
Yelp
Apple Maps
YellowPages
The best way to find the core set of websites relevant to your local is to simply search for: "Top local citations sites in (my country)"
As for other opportunities, your best bet is citations from other local sites. These are super relevant citations if you're able to get them.
To find these, you can again use Loganix & WhiteSpark. Order a $7 citation audit and cross check competitor citations with your own!
You can also run a backlink audit on competitor sites to see if any relevant directories pop up that also allow for NAP placement.
There are many local SEO guides out there, each with nuggets of unique information, so I truly hope you have learnt something from this guide.
If you enjoyed this post, I would greatly appreciate a share. Also, if you have any questions at all, on any part of this post, let me know by leaving a comment!